Listed in Cross Country Ski Trails
South Glen Lake Road, Glen Arbor, MI 49636, USA
---
This winter, the Friends of Sleeping Bear will be providing grooming along the Sleeping Bear Heritage Trail for classic and skate skiing.
Friends of Sleeping Bear Dunes – February 22
Fresh snow, cold temperatures and a dedicated grooming crew makes for EXCELLENT ski conditions on the SBHT.
Feb 7, 2014 – Sleeping Bear Heritage Trail – SKI CONDITIONS
Glen Arbor to Glen Haven – EXCELLENT. It is beautiful, little wind, great snow, classic tracks on the outside and corduroy for skaters and snowshoers in the middle.
Glen Haven to the woods near the back of the Dune – drifting, windy, cold, low visibility. Dress warm and expect the classic tracks to be filled in and some drifted snow to ski through or over.
Along the back of the Dune to the Dune Climb – EXCELLENT. It is beautiful, little wind, great snow. Classic tracks on the outside and corduroy for skaters and snowshoers in the middle.
Dress warm! Especially if it is windy this weekend. Saturday it is supposed to be sunny and a bit warmer with little wind – sounds ideal…
NEXT GROOMING
We don't plan to groom the trail again until early next week. Stay Tuned for an update on Monday.
To stay current on trail conditions, please visit the facebook page.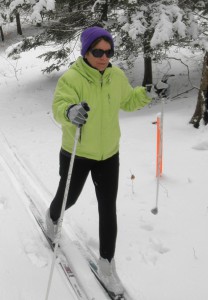 The first four-mile section of the Sleeping Bear Heritage Trail opened in June of 2012 at a ribbon cutting ceremony attended by more than 200 people. View the ribbon cutting video. This first segment provides a paved connection from Glen Arbor to the Dune Climb. A map of the first section is available to download, and printed maps will soon be available at various locations near the trail.
Fall 2013, we will break ground on an additional 4 miles of trail to Empire, with anticipated opening in spring 2014. Nearly 5 miles of trail Glen Arbor to Port Oneida will be done in fall of 2014, and 3 miles from Port Oneida to Bohemian Rd/669 will be constructed during 2015.
When complete, the SBHT will run for 27 miles from the northern end of Sleeping Bear Dunes National Lakeshore, where M-22 and County Road 651 meet, to a point just south of Empire on Manning Road. To safely accommodate users such as hikers, bicyclists, walkers, cross-country skiers and people of all physical abilities, the trail will measure 10 feet wide and have two foot shoulders, and the surface will alternate between asphalt and smoothly compacted crushed limestone. Boardwalks will trace above wetlands to avoid filling any of these critical habitat areas. For the most part, the trail will run parallel to existing road corridors, and in the places where it departs, the trail will be built over old logging roads, abandoned railroads and existing trails to keep forest disruption to a minimum. Where the trail runs though the villages of Glen Arbor and Empire, users will divert to low-traffic roads, on routes approved by village councils.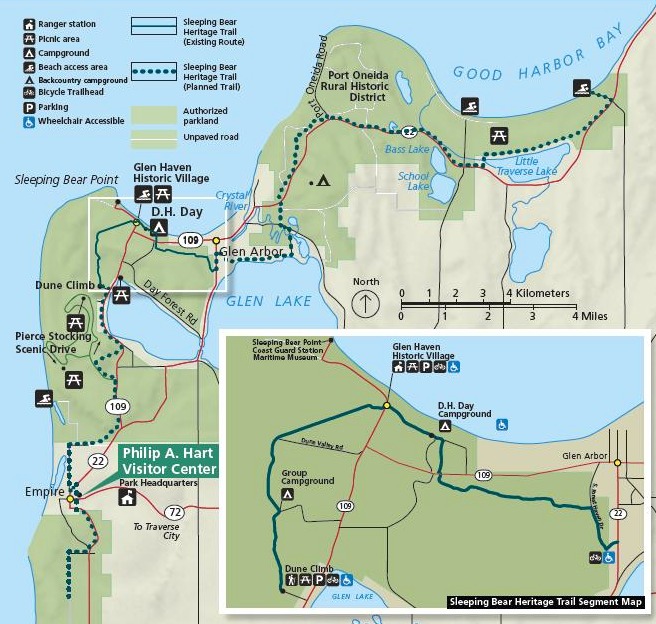 <>
Visit Sleeping Bear Heritage Trail Website >>>>
More Sleeping Bear Dunes Skiing, Snowshoeing and Winter Fun

More News From The Homestead

Please login to add your review.