Listed in Cabins and Cottages
Crystal Drive, Frankfort, MI 49635, USA
231-352-7522
---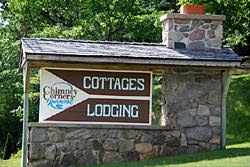 Bring family and friends to enjoy simple pleasures in our Crystal Lake Cottages or Apartments. Or spend a night in our B&B Lodge. Located on the shores and bluffs of Crystal Lake, with 1,000 feet of sandy beach, acres of wooded hills, playground areas and a tennis and basketball court. All have fireplaces and beautiful views. Breakfast and lunch served daily from mid-June to Labor Day. The Lodge will be open for dinner again — call for details. And don't forget to join us for the traditional weekly BBQ! Also host your family reunion, retreat or wedding at Chimney Corners – A Family Tradition since 1935!
Chimney Corners is open May through October (Closed during the winter.)
• Homemade and Local Have Always Defined the Menu at Chimney Corners Resort (via My North)
• Video Tour of Chimney Corners Resort on Crystal Lake (via My North)
Chimney Corners Resort
1602 Crystal Drive (M-22)
Frankfort, MI 49635
231-352-7522
Please login to add your review.